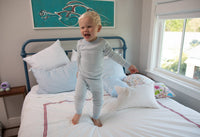 About Snoozer® Sleep
We started Snoozer® with the first ergonomically designed, contoured body pillow for expectant mothers, but we are a FAMILY business and started thinking: Doesn't each person in the family deserve good sleep?
That's why we started offering a variety of high quality pillows for EVERYONE.
And all of our pillows are proudly made in the USA!
Shop
Testimonials
Thank goodness I found Snoozer pillows! I started with the body pillow when I was pregnant and now all of our beds have Snoozer bed pillows.

Mollie R.
We've been buying Snoozer pillows for years and LOVE the comfort and quality.

Louise B.
Snoozer Sleep pillows are THE BEST!! My family wouldn't sleep on anything else.

Megan T.